MEET MELISSA ORTIZ
August 17, 2021
Name: Melissa Ortiz
Pronouns: She/her 
Position: Former pro player, soccer analyst, social media influencer and co-founder of Kickoff Coffee Co
Catchphrases: #TheHustle; "Vamos que vamos"—let's go, let's go!
Go-to coffee order: Pour over black. 
What's your favorite soccer memory?
My debut with the U20 Colombian National Team and scoring against Germany during the World Cup.
It doesn't get more rad than that!
(Laughs) I know, we were down 3-0 and Germany was the most incredible team. I got onto the pitch as a sub and within ten minutes of me playing I made this really great turn and took a shot on goal with my left foot—and I'm a pure righty—but I just whacked it with my left and it went straight in. Everything went into a blur and it felt so incredible.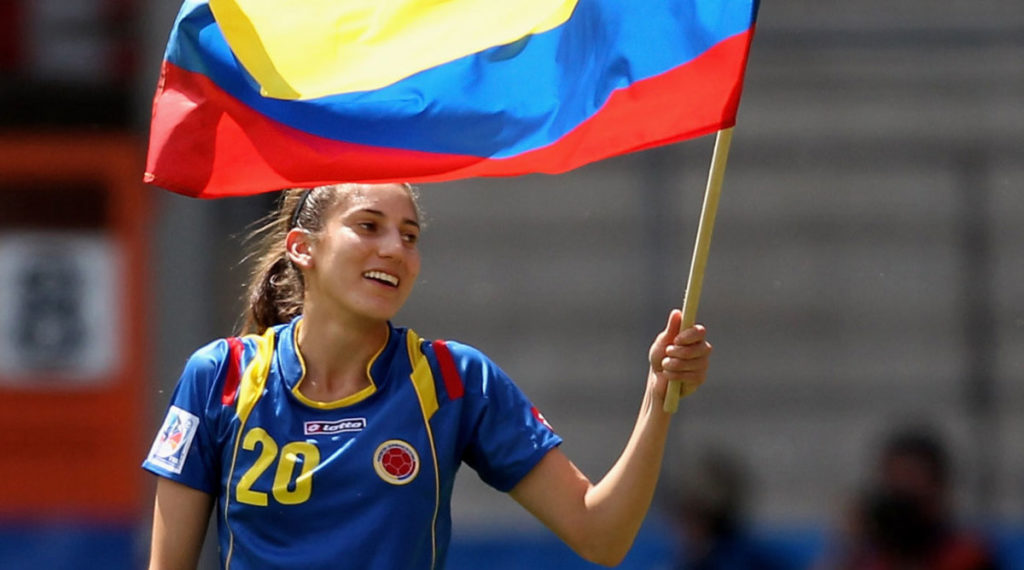 What do you think is the greatest thing about women's soccer?
The great competitiveness in the game. And I say "in the game" because with women's soccer it's only about the game. There are less theatrics and diving. I really believe women's soccer is the purest form of soccer in the world.
You've played pro, you were an Olympian, and now you're an incredible entrepreneur. That's a lot of success and celebration! But what inspires you when things are tough?
I always lean into my family. My parents are immigrants from Columbia and they have the true immigrant story: they started a business from scratch with only about $1,000 and grew it into a successful business on their own all while being amazing parents. So if I ever have a bad day, I just think of how much sacrifice, hard work, and commitment they've applied to their lives and it pushes me to do the same.
Tell us how you took a playing career and turned it into a completely different way of being a "woman in soccer?"
When I first retired in 2017, I knew I wanted to do one thing: create content around soccer. I wanted to be a studio analyst or broadcaster. You would think as a former pro and Olympian it would be easy to make that jump. As a female footballer, when you finish playing you're swimming in the deep end—there are no clear paths to staying in the industry as a non-playing professional. I ended up working for my parents in marketing and accounting for a while but the only thing that brought me true happiness was being around soccer. Then I listened to the audiobook "Crushing It!" by Gary Vaynerchuck which is about creating content and doing things to grow your own brand. That book taught me to not worry about what people think—"f-everything, f-everyone" is the advice he gives—so I just started creating videos in my apartment of me talking about soccer because that's what I love to do. I went to the Russia World Cup on my own dime and created my own content. Then as soon as I got back, I started getting all these opportunities for paid gigs and sponsored posts on my Instagram.
Hell yeah, Melissa! Can I ask for some real specifics because I know so many women in soccer want this outcome for themselves? What was the exact thing that led to your first paid content creator role?
Before I left for Russia, I reached out to as many brands as possible to let them know I was going to the World Cup and was creating content. Ideally, I wanted paid jobs but instead, they sent me products to feature in my posts. I thought, hey, that's a good start! After other brands started to see my content that now featured products, I got my first email from a brand that said they'd fly me to New York to do paid work for a Hugo Boss soccer event. It just went from there as more people and brands started to see me in a professional host and content-creating space. Oh, and what I'll also say for people looking for advice: network, network, network! Talk to everyone you can about your passion and career plans…little by little people will connect you to people who'll be able to support your goals. 
That's such good advice and something we hope more women start to jump on.
There's that saying, "your network is your net worth." You gotta talk to people and expand your network.
Absolutely, that's what WIS is here for! Now tell us about the coffee…how did loving soccer evolve into Kickoff Coffee?
We're Colombian so coffee has always been a part of our culture and in our blood. A year ago my brother just sort of pitched a business idea and it instantly became a matrix in my mind of passions coming together…soccer AND coffee! What's not to love!?
Agreed.
I mean soccer is the world's game, with all the different leagues on at different time zones—like think of the Olympics.
Yeah! We all did super well to catch any of those games…zzz…
(Laughs) Totally, people drink coffee in the mornings and organically post their cup of coffee with the soccer match they are watching.
How do you feel about your coffee fueling a women's soccer network?
It's very humbling and such an honor. Firstly, we get to share top-quality coffee with women in the network—we're graded by the Specialty Coffee Association and many people in America are used to Dunkin' Donuts (laughs), low-quality coffee where you just have to dump a ton of sugar in it to hide the flavor. Plus, it's giving women in soccer the chance to experience a business built by two female founders, Rasha Qumsiyeh and myself, plus my brother Christian. There need to be way more women represented in business and this does make us feel proud of our achievement. (You can meet the Kickoff Coffee squad here.)
Melissa, we're so proud to have you in the network and excited to see Kickoff Coffee in the hands of our members!
WIS and Kickoff Coffee's missions are totally aligned. We put a lot of intention into everything we do. Part of our goal is to use our brand to inspire beautiful moments around the game as well as drive a socially inclusive message.
Our Matchday Bag, for instance, spreads an allyship message whereby a mentor is walking into the stadium with a young girl.
Or the Playmaker Bag: The images around this center a genderless being with a blue, Avatar-like skin tone because we didn't want anyone to feel like they weren't reflected in our brand. Ultimately, the inclusion of all types of people is something we want for our brand and soccer as a whole.
You said it! Thanks so much, Melissa!
WIS member spotlights are conducted and written by our content producer, Pip Penman.